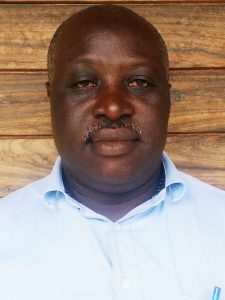 Following our community education program during the International Day for the Eradication of Poverty on 17 October 2019, we talked to some local community members, including Mr. Ferdinand Ikome Wonganya.
Ferdinand is a good example of someone who has overcome poverty by finding new and better opportunities right in his own community. He was once a hunter because his parents did not have the opportunity to go to school, likewise himself. As a hunter at a very young age, he would spend three to four days in the bush without a kill. Today, however, he is a tour guide with an income of at least XAF 30000 (45€ / $50) for every three-day trip on Mount Cameroon. With this income, he has been able to send his children to school and provide for their basic needs and amenities.
In sum, Ferdinand testifies that life is much better now that he is working in the conservation field. Not only does he make more income than before, but working as a guide is less strenuous than work as a hunter. Ferdinand advises other hunters to work in sustainable natural resource fields such as ecotourism and modern beekeeping rather than hunting to eradicate poverty in their families and communities. In this way, our children will have a better life.