Responsible Citizenship: Working toward a kindlier and more welcoming community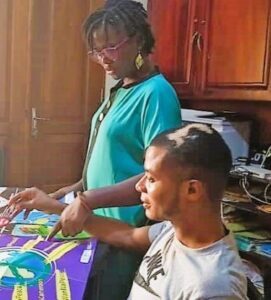 According to the international NGO, Human Rights Watch, at least 6,000 civilians have been killed and 598,000 persons have become internally displaced since Cameroon's Anglophone Crisis began in 2016 (Cameroon Events of 2022). Because these internally displaced people were forced from their homes and had to flee to neighboring or far away villages or cities, they usually have very few or no provisions and thus are completely dependent on the goodwill of individuals, groups or associations. In some communities, the displaced population is competing with locals over land for agriculture or forest resources to generate income for household needs.
These issues can lead to conflict between the indigenes and the displaced population and result in hate speech between both parties. This is in addition to the animosity that has long existed between English-speaking and French speaking Cameroonians.
As the crisis persists with periodic insurgence, hate and hate speech are gaining ground. Buea, the capital of Cameroon's South West Region, is made up of over 85 villages, with a total population of 300,000 persons according to the 2013 census. However, largely due to the crisis, the population has exploded in the past ten years. In some of the villages, more than half of the population is comprised of displaced people. Thus, the host villagers consider the displaced people as a threat because it's sometimes difficult to manage and control resources. This, of course, becomes a breeding ground for hate and hate speech.
In light of the above, Global Hand Cameroon met again with the organization Civic Watch to exchange ideas and obtain training manuals and field guides (in Pidgin and English) that denounce the use of hate speech. Civic Watch, partnering with the #defyhatenow program, has an office in Yaoundé and conducted a Fact-Checking Fellowship training program which Global Hand attended last November (see previous blog). As we move towards working together, our mission is to ensure a society that is free of hate and hate speech. Moreover, we look forward to a friendlier community where resources are shared without bias or stigmatization.