Local Actions and Commitments Relating to SDGs (2030)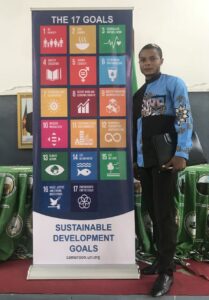 To commemorate the seventh anniversary of the adoption of the United Nations Sustainable Development Goals (SDGs), Global Hand Cameroon participated in a seminar organized by the United Nations Cameroon, the Ministry of Youth Affairs, and Civic Education and partners. The seminar was held 20-23 September 2022 at the City Hall in Buea.
In 2015, the United Nations member states adopted 17 SDGs as a blueprint to ending poverty and protecting the planet by 2030. These goals, which relate to the environmental, political and economic challenges that are faced by humanity, had originally been conceptualized at the Rio de Janeiro United Nations Conference on Sustainable Development in 2012.
Experts at the Boao Forum for Asia argue that the success of achieving these goals by 2030 hinges on the ability of all countries (in Asia and beyond) to work together. On the other hand, the UN through the UNHCR offers a universal, integrated, transformative and human rights-based vision for sustainable development, peace, and security which is applicable to all people and all countries.
Progress made by each country toward the successful implementation of these world goals is measured on the ability to accomplish all 17 goals. In Africa, Algeria is the top performer with a score of 71.54 (on a scale of 100); Cameroon ranks lower at 55.55. By contrast, the four top ranking countries of Finland, Denmark, Sweden, and Norway have scored 86.51, 85.63, 85.19, and 82.35 respectively.
At the Buea seminar, issues on gender/gender equality, poverty, hunger, climate change and waste/waste management were center of discussion. The UN representative Mr. NJITA Jean (Head of Office at the United Nations Information Centre Yaoundé – Cameroon) and Mr. ENOME Christantus NGOME (Regional Chief of Service for Youth Social Integration and Volunteerism at the Regional Delegation of the Ministry of Youth Affairs and Civic Education for the South West Region, Buea) challenged the youths, councils' personnel, and community-based organizations like Global Hand Cameroon to orient their activities towards the 17 world goals. Above all, they stressed the importance of strengthening their efforts by networking at all levels.
The seminar was a great step forward toward achieving our goals of achieving peace and prosperity for all.